LONDON, Sept. 18 (YPA) – Sanad Rights Foundation has highlighted that prisoners of conscience in Saudi prisons are subjected to the worst types of psychological and physical torture, which are prohibited by all religions and local and international laws.
Sanad foundation, based in London, said that the Saudi authorities, in their practice of brutal torture against detainees, violate the provisions and norms of international law, which expressly prohibit torture that violates human rights.
In its last annual report, the foundation mentioned the names of some of the activists who were subjected to torture, including the prominent human rights defender, Dr. Abdullah Al-Hamid, who lost his life as a result of torture in Saudi prisons.
The report mentioned forms of torture such as electric shocks, hanging, sleep deprivation, stripping, exposure to cold, deprivation of sun for months, sexual harassment and psychological torture, such as death threat and threatening with killing relatives, or deceiving the victim with false information about the death or murder of some of their family members, and so on.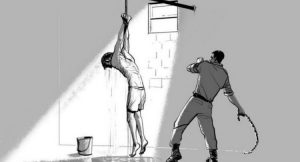 The foundation mentioned the names of a number of victims of the physical and psychological torture. However, the Saudi authorities did not open any investigation into these violations and did not allow any of the human rights organizations or the special rapporteurs of the Human Rights Council to visit prisons.
Many of torture victims are still behind bars, and the authorities continue to systematically torture, especially against people whose stories were not known and not published.
YPA