Yemen army fires ballistic missile into Saudi camp, destroys seven military vehicles in Najran, Jizan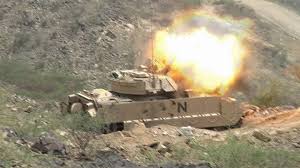 SANAA, April.1 (YPA) – The Yemeni rocketry forces fired up a ballistic missile, Bader-1 type, into Saudi National Guard camp in Najran border province, a military official told Yemen Press Agency.
Moreover, the Yemeni army managed to destroy seven military vehicles belonging to Saudi army in several military operations in beyond borders fronts over the past 24 hours.
A military vehicle was destroyed behind Hadad site and another one was destroyed when an n explosive device went off at Sudis site in Najran, the official added.
Meanwhile, the Yemeni army foiled an advancing attempt of Saudi-led coalition militias towards Harad customs, resulting destruction of four military vehicles in addition to destroying military bulldozer with a guided missile at Al-Amoud site in Jizan.
Emad