Salvation Gov't hands Supreme Political Council its final report on national vision for state building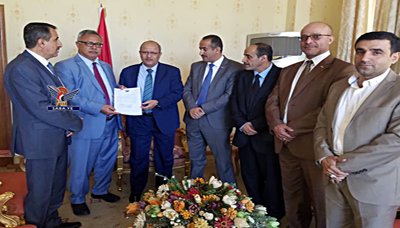 SANAA, Feb. 10 (YPA) – The Supreme Political Council member Mohammed al-Nuaimi on Sunday received the final government report on the national vision for building the modern Yemeni state.
Al-Nuaimi praised the efforts exerted by the National Salvation Government and its four committees to discuss the content of the vision and enrich them with observations and proposals.
For his part, the Prime Minister Dr. Abdulaziz bin Habtoor expressed the satisfaction of the government and its four committees for completing the review of the vision.
Bin Habtoor considered this important national document a vision of all the people of Yemen in their various political spectrums, and that it represents a practical reply to all media provocation aroused by the aggression forces about the political approach of Ansaruallah Movement.
He indicated that the vision needs a high-level steering board to oversee and follow up all the operational aspects of its contents with subjecting it to continuous evaluation.
b@m