SANAA, Sept. 23 (YPA) – President of the Supreme Political Council, Mahdi Al-Mashat, said on Saturday that the Republican Hospital in the capital, Sanaa, will provide free medical treatment to the poor and needy.
This came during his meeting today with a number of patients getting treatment at the Republican Hospital's National Center for Oncology.
President Al-Mashat emphasized the Supreme Political Council's and the Salvation Government's willingness to support the Republican Hospital Body in providing medical services to the poor and needy, as well as the poorest families, through organized procedures that contribute to their access to medical services.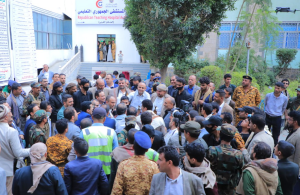 YPA