SANAA, Jul. 16 (YPA) – The Yemen Petroleum Company (YPC) said that the poor permits issued by UN Verification and Inspection Mechanism for Yemen ( UNVIM) to the fuel ships are clear evidence of the absurdity and bias of the United Nations at the expense of the suffering the Yemeni people.
This came during a vigil that was carried out by the employees in front of the United Nations office in Sanaa on Friday.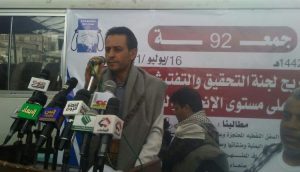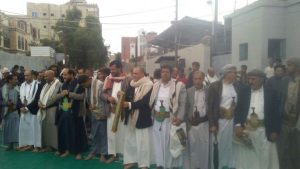 A statement issued in the protest, confirmed that the UN contributed to the oil crisis in Yemen because of its voluntary wishes for the coalition, led by America.
It  pointed out that the UN continues its complicity with Saudi-led coalition's violations and misleads the world through the briefings of its envoys to the Security Council, which Shows how dependent it is on the States of the coalition.
"The UN envoy's briefing does not address the cause of the disaster in Yemen, even it does not condemn piracy and not call on the international community and actors to put  pressure on the coalition countries not to detain  the fuel ships. It should to protect Yemeni human rights and to maintain international law," the statement read.
The statement called on the free people of the world to stand with the Yemeni people and put pressure on the coalition countries and the United Nations to release the fuel vessels.
It renewed the call for the UN to put pressure on the aggression coalition to release all the detained fuel ships, lift the ban on Sana'a International Airport and Ras Issa port, and to safeguard the Yemeni economy from being targeted.
The coalition forces are still holding five ships, including one loaded with mazut, another loaded with domestic gas, despite they   have been granted entry permits by the UNVIM.
E.M