Armed Forces Spokesman: Saudi-led coalition wages 21 airstrikes, artillery attacks over past 24 hours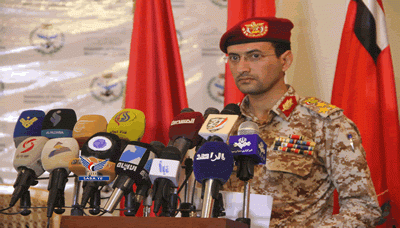 SANAA, Dec. 14 (YPA) – The spokesman of Yemen's armed forces, Brigadier GeneralbYahya Saree, said that the Saudi-led aggression coalition has launched 21 air strikes coinciding with heavy artillery attacks and infiltration attempts at the West Coast frontline over the past 24 hours.
According to the armed forces spokesman, the coalition's warplanes waged two air strikes on Faza district, two on Jah district, three air strikes on Duraihimi, and two other air strikes on Tuhitah district, as well as an air strike that hit Khamseen Street in the city of Hodeidah.
The coalition's jet fighters furthermore launched four air strikes on Boqa desert, four others in front of Najran region, two airstrikes on Nihm district and one on Hima Kharijiah district, Brigadier General Yahya Saree added.
He noted that the Saudi-backed militants launched intensive artillery attacks on several districts of the western coast, causing material damages to citizens' properties.
The spokesman confirmed that the Yemeni army has foiled a large-scale attack carried out by the coalition-backed militants on Duraihimi district.
E.M