SANAA, Feb. 29 (YPA) – The Yemen Petroleum Company (YPC)'s employees and its unions on Friday held a vigil in front of the United Nations office in the capital Sanaa, for the 47th Friday in row.
During the vigil titled "UN is about to fall", the company's spokesperson Ameen al-Shabati pointed out that the Yemeni people are suffering bitterly as a result of the detention of the oil ships on the one hand, and the UN silence on the other.
Al-Shabati expressed his regret that the United Nations did not respond to the demands of the sit-in in front of its office in Sanaa 320 days ago, and did not work to release the oil ships held by Saudi-led coalition.
He said that "the aggression coalition is still holding six oil ships loaded with more than 170,000 tons of oil derivatives, despite they are obtaining permits from the United Nations."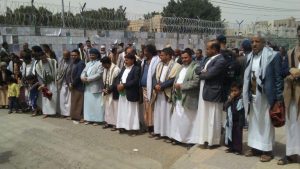 The participants in the vigil confirmed, in a statement, the continuation of the open sit-in in front of the United Nations office until releasing all oil derivative ships and ensuring that they would be not held in the future.
The statement renewed the call for the United Nations to lift the ban on Sanaa International Airport and Ras Issa port and to neutralize the YPC and its installations from targeting.
YPA