Report: Saudi-led coalition uses biological weapons to kill Yemenis
SANAA, March 26 (YPA) – Coalition of aggression war on Yemen, led by Saudi Arabia and the United Arab Emirates, has used various types of deadly weapons, including internationally banned bombs and even biological weapons.
From cholera to diphtheria and several deadly diseases, many of which are strange and never known in Yemen. They are in fact biological weapons used deliberately by the aggression coalition to fight Yemenis, seeking to eliminate them after they provoked it by their steadfastness and amazing resistance.
Those who were not killed by the coalition airstrikes, were killed by the epidemics used by the coalition as a weapon in the war on Yemen.
The aggression has claimed lives of hundreds of thousands of Yemenis through the suffocating siege on all land, sea and air ports and preventing the entry of even medicines.
As if the coalition was not satisfied with the killing of nearly 14 Yemeni civilians, including 3 thousand children with direct shelling, so it resorted to deadly epidemics, after it has managed to silence the world's conscience by hundreds of billions of dollars.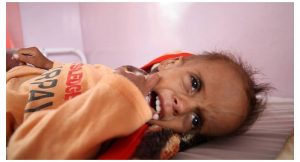 While raids and famine compete for the largest number of victims, as 17.8 million Yemenis suffering from food insecurity, the epidemics, which have been revived by the aggression, killed more than 247 thousand citizens, according to Ministry of Human Rights in Sana'a.
Yemen has become a safe haven for a number of epidemics, the last of which were bird flu and diphtheria, after the collapse of the health sector either due to a direct bombardment that affected 301 hospitals and health centers or inability to provide medical services as a result of running out of medicines and medical supplies.
With regard to diphtheria, the World Health Organization (WHO) late last year reported 34 deaths and at least 283 infected cases in 15 out of 23 governorates.
The United Nations warned that at least one million Yemeni children are vulnerable to infection because the coalition has prevented the entry of vaccinations and vaccines.
This was confirmed by the spokesman of Health Ministry in Sanaa, Abdul Hakim al-Kahlani, late in 2017 , who declared the depletion of antibiotics to save the lives of people with diphtheria and inability to obtain from abroad.
WHO announced in mid-December that cholera cases had risen to about one million, including 2,225 deaths since April 27, 2017.
In regard to cholera, the authorities in Sanaa accused the coalition of using the epidemic as a biological weapon, especially since it is known that it spreads quickly in crowded areas that lack clean water.
Spokesman of the Yemeni army in Sanaa, Sharaf Ghaleb Luqman, said that Saudi Arabia resuscitated the cholera by poisoning the groundwater through spreading "Chemitril gas" in clouds.
Bam