SANAA, March 20 (YPA) – After Cholera epidemic, which claimed lives of 2,200 people and infected over 926,000 others, Diphtheria emerges again in Yemen and the war is the biggest promoter of it, as World Health Organization (WHO) confirmed the death of 70 people from this bacteria in 20 Yemeni provinces.
 WHO's report said more than (1100) people have been infected by the disease, which is caused by the bacterium Corynebacterium diphtheria and affects mainly mouth, eyes and nose.
 Most of the cases were in the provinces of Ibb and Hodaida, according to the classification of Ministry of Public Health and Population.
 Although health officials have confirmed that medicines are available to fight the disease in most health facilities, but they are often unable to cope with the large number of people infected with the disease, which is likely to increase under the Saudi-led aggression war.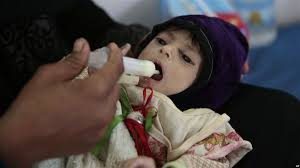 Bam