DHAMAR, Aug. 01 (YPA) – A scientific study issued by the Regional Station for Research in the Highlands of Central Regions in Dhamar province revealed on Tuesday that the General Company for the Production of Potato Seeds produced a new variety of 100% pure Yemeni seeds called "Baraq".
The study conducted by the researchers, Eng. Rashad Hamoud Al-Basha, a specialist in plant protection, and the researcher specializing in the field of vegetables, Eng. Amin Abdo Hassan Al-Qurashi, at the end of April of this year, confirmed that one of the characteristics of the "Baraq" variety is its resistance to bacterial diseases and mechanical wounding.
The study indicated that the seed variety "Baraq" was planted in the Thi al-Sufal area in Ibb Province on an area estimated at 7,500 square meters and with a quantity of 1.5 tons.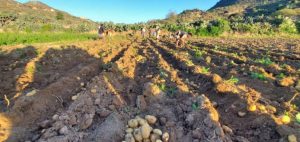 The study pointed out that the characteristics of the tuber shape of the "Baraq" cultivar are oval and elongated, with a creamy white exterior color.
The management of the General Company for the Production of Potato Seeds carried out many studies and field research, which formed the basis for the productivity of potato seeds.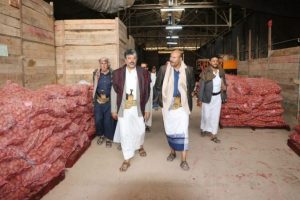 The Director General of the General Company for the Production of Potato Seeds, Eng. Hamdan bin Zaid Al-Akwa, attributed the successes achieved in seed production to relying on field research experiments.
He emphasized that the company launched according to its strategic plan, which it set within the economic recovery phase of the national vision, in a translation of the slogan launched by martyr President Saleh al-Sammad, "A hand that protects and a hand that builds" to achieve an agricultural renaissance aimed at reducing the gap in local need for improved seeds.
Al-Akwa explained that the company put an end to the hemorrhage of hard currency by reducing the import bill of more than 1,900 tons of seeds, at an annual average value of more than $2 million, and providing more than 7,000 various job opportunities in the local market.
At the end of last year, 2022, the company announced self-sufficiency in potato seeds and assumed responsibility for providing safe, high-yielding seeds for local farmers and for future export.
YPA