ABYAN, April 05 (YPA) – "Al-Qaeda" organization has announced its responsibility for executing three prisoners of armed factions backed by the UAE in Abyan province, southern Yemen, by burning them.
This came through a statement issued Monday by the terrorist organization, along with horrific pictures and videos of the executions of the prisoners.
 The pictures showed three fighters of the pro-UAE Southern Transitional Council (STC) being shackled before they were burned alive.
 The statement confirmed that the three conscripts were captured in an armed ambush inside a site of the STC militia in central Abyan.
Websites affiliated with the STC revealed the names of the three conscripts who were burned, namely Bashar Mahfoudh Saif , Arian Fadhl Saleh , Muhammed Hassan Al-Kabsh.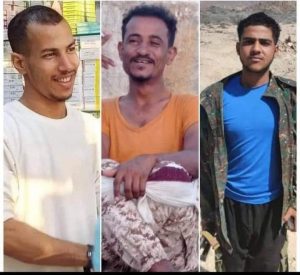 YPA