KHARTOUM, Feb. 03 (YPA) -As the sixth Arab country in the circle of the normalization, Sudan received on Thursday the foreign minister of the Israeli enemy, Eli Cohen, as part of new arrangements to sign what Israel called a draft peace agreement with Sudan.
Chairman of Sudan's Transitional Sovereign Council Abdel Fattah Al-Burhan met with visiting Israeli Foreign Minister Eli Cohen, the sovereign council said in a statement.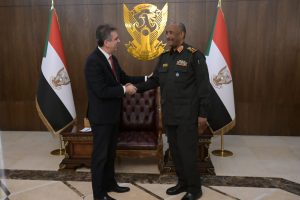 "Today we came back with three yesses: Yes, to recognizing Israel, yes to negotiating with Israel, and yes to peace with Israel," the Zionist Foreign Minister Eli Cohen said after the meeting .
"The meeting discussed ways to lay down bases of fruitful relations with Israel and enhance cooperation between the two countries in the fields of agriculture, energy, health, water and education, as well as the security and military domains," according to Sudan News Agency.
For his part, Deputy Chairman of the Transitional Military Council. Hemeti; Hemetti, said in a brief press circular that he was not aware of the visit of Israeli Foreign Minister Eli Cohen, and that he did not meet the Israeli delegation .
According to the media office of Hemedti confirmed that the reports circulating about his meeting with the Israeli delegation were not true and e was not aware of the visit in question, and that he did not meet with the visiting delegation.
E.M