SANAA, Dec. 02 (YPA) – The capital Sanaa has witnessed a mass wedding celebration for a total of 7,200 grooms and brides on Thursday afternoon.
The wedding was organized at Sabaeen Square, and under the auspices of General Authority of Zakat in the National Salvation Government, to make it easier for young people to start families despite the deteriorating economic conditions experienced in the country.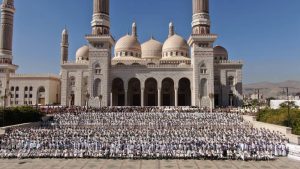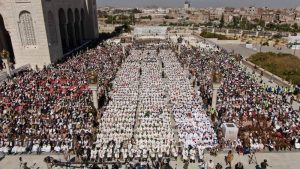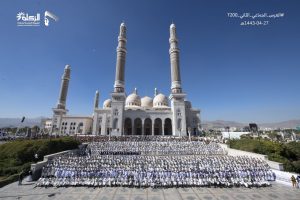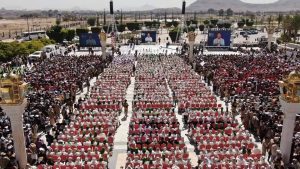 During the celebration ceremony, the Leader of the Revolution, Sayyid Abdul-Malik Badreddin Al- Houthi congratulated the grooms and brides on the occasion of their marriage, wishing them a happy life.
"The celebration represents a strong message to the world that the Yemeni people are distinguished in all fields and shows their faith identity, as well as on the battlefield in confronting the enemies' tyrant and arrogant," he said .
Sayyid Abdul-Malik praised the great role of Zakat authority and its staff for their keenness to carry out their responsibilities with all due diligence and sense of responsibility.
He called on society to be charitable, take care of the poor families , facilitate marriage and help all those in need.
The state of compassion and solidarity should be permanent on the largest scale, especially with the high jump of prices, including wheat at the global level. The Yemeni people are the most affected by the blockade imposed by the enemies (US-backed Saudi-led coalition forces). The more we are suffering, the more solidarity and compassion we show in the face of the conspiracies of enemies, he explained.
The wedding was attended by thousands of relatives and friends of the grooms, in addition to a remarkable official attendance.
Yemeni people have their own ways to celebrate marriage according to their traditional and customs.
The grooms dressed in traditional flowing robes and scarves wrapped around their heads, and each held long golden-colored swords.
The festivities included several traditional dances , were performed by popular groups that belonging the Ministry of Culture.
E.M