Protests continue in front of UN office in Sanaa against detention of fuel ships
SANAA, May 28 (YPA) – The Yemeni Petroleum Company (YPC)'s employees and its unions organized a protest vigil after Friday prayers in front of the United Nations office in the capital, Sanaa, condemning the continued detention of fuel ships by Saudi-led coalition.
The company's employees renewed, in a statement, their claim to the international community and international organizations to pressure the barbaric coalition to lift the embargo and siege on Hodeida port, Ras Issa oil port and Sanaa international Airport.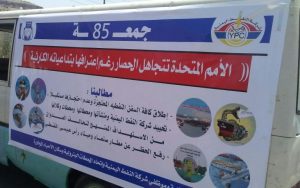 The protesters indicated, during their 85th vigil, that the United Nations ignores the blockade, despite acknowledging its catastrophic repercussions.
The coalition forces are still holding five oil ships and preventing their entry to the port of Hodeida, including a ship loaded with mazut. Those ships have been held for varying periods, some reach to more than five months (179) days, although all of these ships have completed all the examination procedures through the mechanism of the United Nations Verification and Inspection Mission (UNVIM) in Djibouti.
YPA