SHABWA, June 20 (YPA) – Unidentified gunmen assassinated on Saturday Bandar Hani Johar, a football player of Nasr Al-Houta Club, in al-Rawdah district in Shabwa province, sources reported.
The sources said that unknown gunmen opened fire at Johar, nicknamed "al-Bunni" and a soldier affailated with the so-called "al-Shabwani elite", while driving his motorbike in al-Khurama area, located between al-Houta area and Azzan district in Shabwa.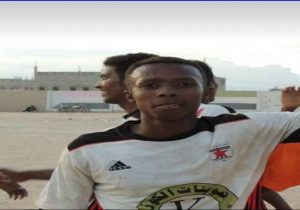 Johar died during his transfer to the Azzan Hospital, while the perpetrators fled, the sources added, noting that the motives or causes of the crime have not been known so far.
Shabwa province, since it was controlled by Islah Party militants last February, has been witnessing a state of insecurity amid bloody conflicts among the armed factions loyal to Saudi-led coalition and several tribal conflicts.
YPA