SANAA, Oct. 8 (YPA) – The Yemeni national junior soccer team that qualified to the finals of the Asian Junior Football Cup was given a large official and popular reception in the capital Sanaa.
At the forefront of those present at the team reception ceremony in Al-Sabeen Square in the capital were Member of the Supreme Political Council Mohammed Al-Nuaimi, Speakers of the Parliament and the Shura Council, Prime Minister and a number of ministers and officials.
The officials praised the junior soccer team's achievement by qualifying for the Asian Cup finals and its excellent performance in the preliminaries.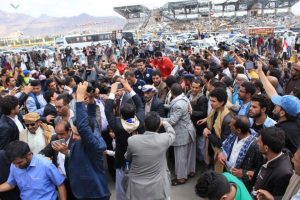 YPA