SANAA, Jan. 17 (YPA) – The director of the Aden Center for Research in Washington and the spokesman of the Southern Youth Forum called "South" in America, called the "Transitional Council of the South" funded by the UAE to issue a statement betraying everyone who works with the government of exiled Hadi.
Ahmed Saleh asked in a his  Twitter page on Wednesday to issue a list of all civilian and military officials who work with so-called "legitimacy" as traitors who have renounced the southern issue.
Saleh explained that the biggest problem suffered by the sons of the southern provinces betray each other is "legitimacy" and their proximity to the government of Hadi.
Saleh stressed that the list of traitors must be  decided by the southern transition, which he consider the largest political component in the southern provinces, according to his speech.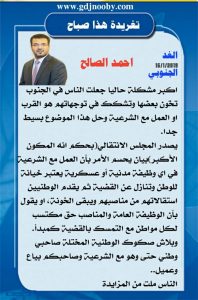 Sameera Hassn