ADEN, Sept. 16 (YPA) – A prominent leader in the UAE-backed Transitional Council (STC) survived an assassination attempt on Saturday in Yemen's southern port city of Aden.
According to media sources, the prominent leader of the STC, Nasser Al-Khubji, was subjected to a mysterious accident, when two tires of his car went off at the same time while he was on the road linking the districts of Khormaksar and Al-Mansoura.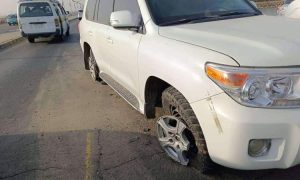 The sources added that the simultaneous bursting of tires indicates that it was a planned assassination attempt.
Al-Khubji was unharmed  in the incident, one of the sources said, adding that it was believed that the tires were filled with gas instead of air, which led to their heat and explosion at the same time.
E.M