HADRAMOUT, March 04 (YPA) – A senior military commander in the First Military Region affiliated with Islah party resigned from his post in a protest against marginalization, partisan and regional loyalties.
Amer Abdullah Mohammed bin Haitan Al-Nahdi, the chief of staff of the First Military Region, attributed the reasons for his resignation to the failure to form a brigade under his command, similar to former regional staff, Yahya Abu Awja, to contribute to maintain security and stability in Wadi Hadramout.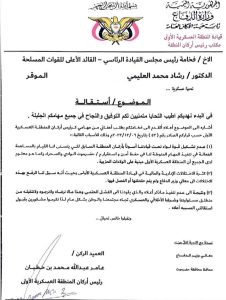 In the resignation document circulated by pro-coalition media, Al-Nahdi stressed that the "first region is based on partisan loyalties," referring to the Islah Party.
He pointed out that the region suffers from administrative and financial problem, without any response from the head of the Riyadh-formed Presidential Council, Rashad Al-Alimi.
The resignation revealed the extent to which the Al-Alimi Council served with the Islah Party's military leaders in the districts of Wadi and the Hadramawt desert.
His resignation followed his appointment as chief of staff in December, replacing Yahya Abu Awja, a close leader to Ali Mohsen al-Ahmar.
It is worth mentioning that bin Haitan recently served as commander of the so-called "Special Task Battalion" in the UAE-funded Hadrami Elite militia on the coast of Hadramout.
E.M