Leaked document reveals French fatalities, massive numbers of coalition's troops killed in western coast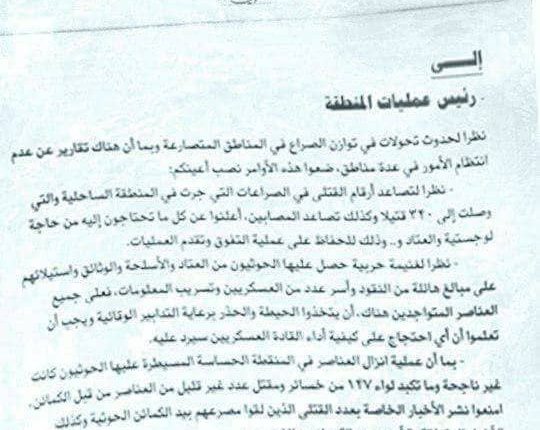 SANAA, June 21 (YPA) – The commander of the sixth Military region, Hashim Ahmar, revealed in a letter to the Regional Operations Command the death toll of the Saudi-led coalition forces, including French paratroopers.
He called on his members on the west coast to take precautions and he promised to respond to any protest among his forces over how the military leaders were performing.
He noted in his letter to the increase of death toll numbers in the west coast battles reached to 340 people between dead and wounded.
Hashim Ahmar said that taking parts in sensitive areas held by Ansarullah fighters was unsuccessful, and casualties reached to 147 soldiers between dead and wounded.
He asked his troops not to publish any news concerning the number of Yemeni or French fatalities.
E.M