SANAA, Jun. 10 (YPA) – Dozens of Yemeni activists called Wednesday evening for a massive mass protest and revolutionary escalation under title "Revolution of Hungry " on Thursday against Hadi's government and the Saudi-led coalition forces in Taiz, Hadramout and Aden provinces.
The popular calls are rising day after day against the coalition forces and the Hadi government due to the collapse of the economic and security situation, the rise in food prices, the spread of criminal gangs and property robbery in all the areas controlled by the coalition.
Activists on Twitter from Taiz province targeted the names of corrupt officials in Hadi's government and affiliated with the Islah Party, which controls the province.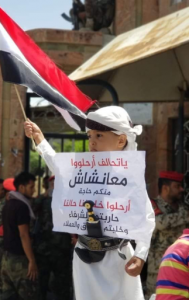 The "Revolution of Hungry" movement called on all the people of Taiz to unite the ranks away from partisan, sectarian and regional affiliations, to demand freedom, dignity, independence, rights, security, services, salaries and order.
YPA