SANAA, April 6 (YPA) – The four-year war led Saudi Arabia and the United Arab Emirates on Yemen for four years, in which banned weapons have been used, has caused congenital abnormalities due to toxic gases and harmful radiation resulting from those weapons.
Ayoub Hassan, a one-month-old child, has been lying in Al-Sabeen Hospital in the capital Sanaa since the first day of birth. He is infected with meningitis.
"Our village was bombed a year ago, and another agricultural area was bombed when I was near to it," Ayoub's mother told Yemen Press Agency.
Doctors had planted a device in the baby's head to absorb liquids, but they said he would be incapacitated for the rest of his life. There is a hole in his back because of liquids, which may cause him a permanent disability.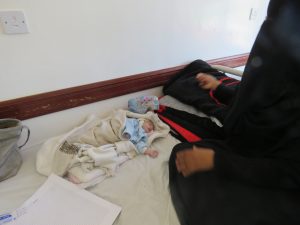 "The congenital malformations that have emerged recently in Yemen were caused by the forbidden rockets," said Dr. Majida al-Khatib, director of Al-Sabeen Hospital for Maternity and Childhood.
"There are strange abnormalities as those appeared in Fallujah city in the first years of the aggression on Iraq," al-Khatib added.
Dr. al-Khatib indicated that the malformation cases would continue to be exacerbated due to the collapse of the health system in Yemen as a result of the direct bombardment targeting the health facilities. She criticized the international organizations' silent towards such violations.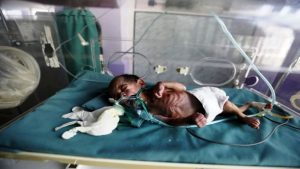 "The rate of congenital malformations has markedly increased between the years 2015 and 2017," said Talaat al-Sharjabi, a spokesman for the Ministry of Human Rights in Sanaa. He added that the ministry has reported to the World Health Organization (WHO) and the United Nations about that.
Al-Sharjabi noted that this generation of congenitally deformed persons would suffer from psychological diseases and would increase the burden on their families and the state alike. "What are the guilt of these children and what they have done to be punished in this way?"
UN organizations have demanded the arms export to Saudi-led coalition countries should be stopped as a result of the use of prohibited weapons in bombing civilians in Yemen, and these organizations recorded areas of harmful radiation in Saada, Sanaa and Hodeidah.
With Yemen war entering the fifth year, the coalition continues to target civilians in all provinces, in conjunction with the all-out blockade, which created the worst humanitarian crisis in the world.
b@m