Photos: Mass increase in prenatal death and child deforming due to Saudi use of banned chemical weapons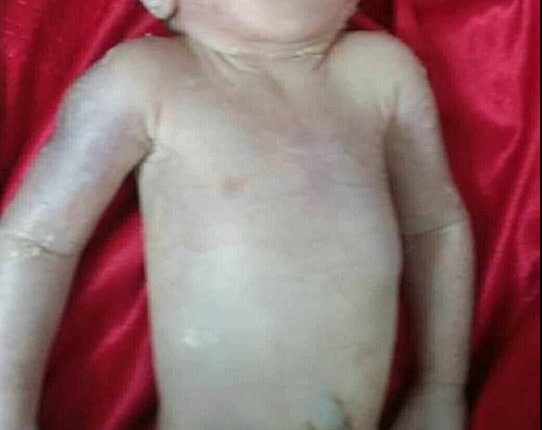 SAADA, Jan. 11 (YPA) -The rate of postnatal death, congenital deformity or death of fetuses in their mothers' wombs has increased all over pre-natal ward in Saada province, due to the internationally banned biological weapons used by the Saudi-led coalition on the border province of Saada, northern Yemen.
Horrific pictures of a maimed newborn child have emerged from Saada, obtained by Yemen Press Agency.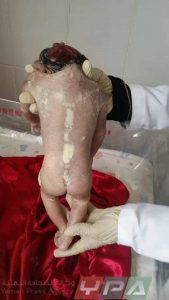 A medical source in Saada province told YPA that the Republican hospital in the city had received a birth case for a deformed child.
The source confirmed that this distortion is a result of the use of internationally banned biological weapons by the countries of the coalition of aggression while shelling the towns and villages of Saada on a daily basis.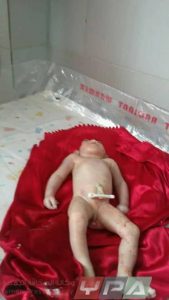 A medical phenomenon and a serious humanitarian catastrophe began to escalate in the previous three years of the war waged by Saudi Arabia and the United Arab Emirates against Yemen.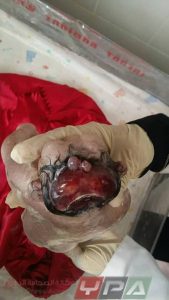 Every day, children die right after childbirth, suffer congenital deformity or die in their mothers' wombs due to gas emissions from raids and raids. Yemen in general and Saada governorate, in particular, are subjected to dozens of air strikes and intensive artillery shelling on a daily basis.
On January 9, the Yemeni Press Agency published a medical report confirming nine cases of birth of children deformed by biological weapons and toxic gases.
Other medical reports confirmed that more than 90 children were born in emergency departments and obstetrics in Yemeni hospitals with congenital malformations due to the use of weapons and bombs that are internationally prohibited.
E.M