HADHRAMAUT, Feb. 12 (YPA) – Residents in  the city Seiyun of Hadhramaut province staged a protest on Friday,  denouncing normalization with the Zionist enemy and its presence on the Yemeni Island of Socotra.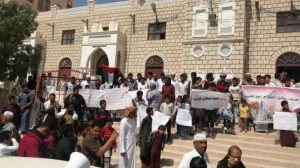 The participants denounced Zionist plans carried out by foreign countries in Yemen's southern provinces, mainly the United Arab Emirates.
The protesters also chanted slogans denouncing the policies of normalization with the Israeli Zionist enemy and abandoning the Palestinian cause, which is the nation's first issue.
During their stand, the participants burned the Zionist flag, stressing their disapproval of the acceptance of the so-called " the UAE-backed Southern Transitional Council" for normalization with the Israeli entity.
E.M