HODEIDAH, Oct. 7 (YPA) – The Yemeni Press Agency obtained several pictures of crime committed by Saudi-led coalition by targeting a large truck "locomotive" in the port of Ras Issa in District al-Salif in the western province of Hodeidah .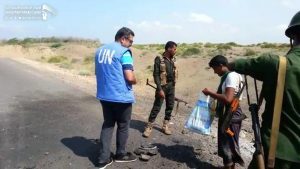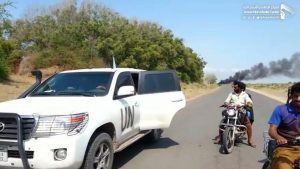 According to sources, the targeting came during the the UN monitoring team visit  to Ras Issa and arrived in the area of Al-Araj, where the coalition warplanes resumed bombing the area in the presence of the UN delegation.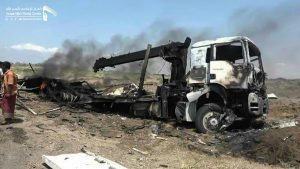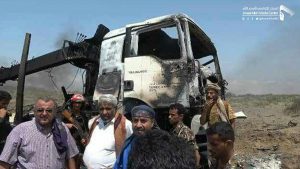 This targeting comes in the context of the escalation by the Saudi-led coalition and its forces on the ground against civilians and their property in various areas of Hodeidah province in order to continue to violate the Swedish ceasefire agreement.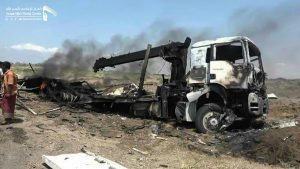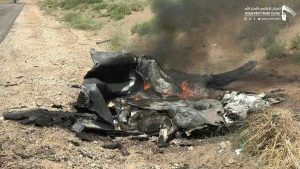 A security source in the province confirmed earlier that the coalition air force launched two air raids targeting a citizen's truck in al-Arraj area.
The source pointed out that coalition forces shelled with artillery, medium and light weapons different population areas in Kilo 16 and houses and residential neighborhoods on 50th and Sanaa streets.
On Saturday, coalition forces' bulldozer set up military fortifications near 50th Street, coinciding with the bombardment on different areas of the same area.
The Coalition forces also shelled the village of Al-Kaw'ei with artillery, while more than a dozen mortar shells were fired at the village of Al-Shajan in the besieged Durihamy district.
E.M