DHAMAR, Oct. 2 (YPA) – Floods caused by heavy rains stormed on Tuesday a camp for internally displaced people (IDPs) from Hodeidah province and the west coast in al-Mesharafa market in Wossab al-Safel district of Dhamar province.
"Torrents of two-day heavy rains flooded a large area of the camp and damaged the IDPs' property and foodstuffs," said Abdullah al-Alawi, director of human rights office in the district, in a statement to Yemen Press Agency.
Al-Alawi explained that the influx of rain waters into the camp has increased the suffering of IDPs and citizens of the district, adding that the heavy rains caused damage to several houses and agricultural lands in several villages of the district.
He appealed to the local authorities in Dhamar province and humanitarian organizations to intervene urgently to rescue the displaced people and citizens affected by torrents.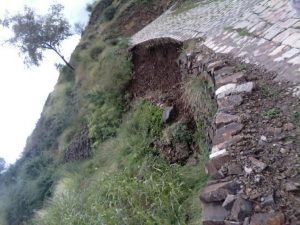 YPA