Because of UN careless, Sanaa is engaged in battle to protect prisoners from coalition airstrikes
SANAA, Sept. 28 (YPA) – There are a lot of things revealed by the Yemeni army's spokesman Brigadier Yahya Sarie in his statement on Saturday on details of the biggest drawing battle that Saudi-led coalition forces have been subjected to in Najran axis.
But the most remarkable in the spokesman's statement is his emphasis on the issue of protecting the battle prisoners from the coalition airstrikes.
This confirms that the Yemeni armed forces are also fighting an intelligence battle to protect the coalition prisoners from the hostile aircraft raids, which is shown through the message of reassurance sent by the spokesman to the families of those who were captivated in the operation named "Nasr Min Allah" in Najran.
According to field information, dozens of prisoners from the coalition forces were bombed on the battlefield by the Saudi aircrafts after surrendering themselves during the operation in Najran.
It appears that the coalition countries are trying to tighten the noose on the Yemeni armed forces, by fabricating paths for an unethical battle in which the coalition targets the prisoners, such as targeting the prisoners' prison in Dhamar by the coalition's aircrafts on the first day of September, which claimed the lives of 100 prisoners and wounded 50 others.
According to human rights activists, the careless of the United Nations and international organizations in holding the coalition forces accountable for their crimes against Yemenis, including prisoners, made the leadership in Sanaa alone bears the burden of protecting the prisoners who the facts have proved they become targets once they failed to carry out the military operations of the coalition countries.
In July 2017, Saudi-hired gunmen testified that the Saudi regime had adopted a policy of shelling fighters fleeing infiltration operations.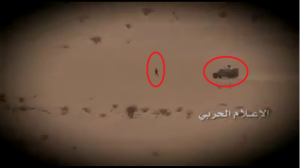 Video footage showed how Saudi armored vehicles chase and run over the hired mercenaries in the desert after fleeing clashes with Yemeni forces on the Yemen-Saudi border.
YPA