3 citizens killed in collapse of their house in Shabwa
SHABWA, Sept. 22 (YPA) – At least three citizens were killed on Thursday when their house collapsed over their heads due to unknown ground explosions in Shabwa province, eastern Yemen.
Local sources said that the citizen, Muhammad Al-Babour Bashiba, and two of his sons died when their house collapsed in the town of "Hotat Al-Faqih" in Mayfa'a district.
The sources attributed the collapse of the old house to unknown excavations and underground explosions carried out by foreign companies in the area and various areas of Shabwa districts.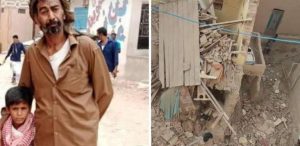 According to the sources, the citizen's wife and daughter survived because they were not inside the house during the accident, while the bodies of Bashiba and his two sons remained under the rubble of the house for hours due to the delay in the rescue operation.
YPA