SANAA, Sept. 07 (YPA) – The Ministry of Agriculture and Irrigation in Sanaa has inaugurated the operation of modern and advanced devices used to examine and measure the percentage of elements in fertilizers and agricultural fertilizers.
Director of Quality Control of Agricultural Production Requirements, Engineer Abdullah Masoud, stated on Tuesday that the provision of modern devices and technologies aims to develop the level of performance in the laboratory and enhance its role in examining the quality of fertilizers and ensuring their safety and conformity with specifications in order to serve agricultural productivity.
Masoud added that these devices are characterized by the speed of examination with high accuracy and shortening of time and effort.
"Despite the obstacles and difficulties caused by the siege and aggression, but these circumstances forced us to tighten control measures to contribute to the protection of agricultural production," he said.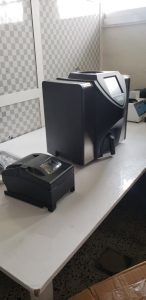 Yemen faces many problems, most notably the attempt to introduce quantities of seeds and fertilizers by many companies that export to Yemen fertilizers and materials that do not conform to specifications and quality.
YPA