TAIZ, April 7 (YPA) – Clashes renewed on Wednesday among UAE-backed Tariq Saleh troops and militants of sheikh Zaid al-Khurj in Mocha city of Taiz province, local sources told Yemen Press Agency.
The sources indicated that fierce clashes erupted among them in Yakhtal area, killing a citizen and wounding dozens of the militiamen.
On Tuesday, Tariq's forces stormed the sheikh's house, tampered with the contents of his house, broke his car, and arrested his brother then armed clashes broke out and left casualties.
There were conflicting reports about the causes of the armed confrontations among sheikh Zaid al-Khurj militias and Tariq Saleh troops.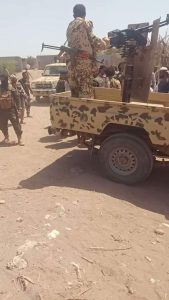 ---