ANKARA, Nov. 16 (YPA) – Turkish media have revealed an upcoming visit of Abu Dhabi Crown Prince Mohammed bin Zayed for the first time in 10 years to Turkey.
Bin Zayed would meet, during the visit, with Turkish President Recep Tayyip Erdoğan to discuss economic issues and enhance bilateral cooperation between the two countries, foremost of which is the opening of a new water canal linking the UAE, Turkey and Iran instead of the Suez Canal, according to the source.
Turkey seeks to implement the project in accordance with an economic vision that legitimizes it to benefit from the sea and reduce the travel time of commercial ships by passing through the new canal, in coordination with Iran.
According to the Turkish vision the transportation movement will be reduced and shorten from 20 days by sea from (Sharjah – Mersin) through the Suez Canal to 6 or 8 days with the route passing through Iran.
Turkey plans to build the "Istanbul Water Canal" at a cost of $25 billion, given the congestion of the Bosphorus Strait for cargo ships.
The new canal will change the course of the Turkish economy and triple the number of ships passing through it than it is now, according to official statistics saying that only 125 ships are currently crossing the strait.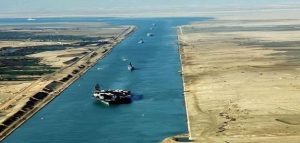 Iranian pre-call
The Iranian ambassador to Moscow, Kazem Jalali, had called for the necessity of activating the "North-South" corridor instead of the Suez Canal last March, during his comment on the closure of the global shipping lane after the giant ship "Ever Given" ran aground on the 23rd of last March.
Jalali added, in a tweet on his account on Twitter, that the "North-South" corridor, which shortens the time up to 20 days and costs up to 30%, is a better option as an alternative to the Suez Canal in the field of transit.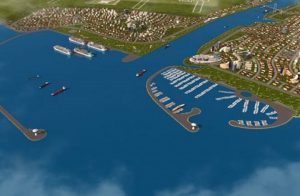 Channel Details
The canal is 40 to 45 kilometers long, 145 to 150 meters wide, and 20 to 25 meters deep. Six bridges will be built over it, in the European part of Istanbul.
The Bosphorus will be completely closed to tanker traffic, and a new peninsula and a new island will be formed in Istanbul.
Istanbul Canal covers an area of 30 million square meters of the new city, which will be built on an area of 453 million square meters, in addition to an airport on an area of 78 million square meters, and a residential complex on an area of 33 million square meters.
© YPA