MARIB, March 08 (YPA) – Activists circulated on social media, many of pictures showing army forces and popular committees in the areas of al-Balqin and Marib Dam.
The photographs show the Yemeni forces from the top of Ablaq Mountains, and the banks of the Marib Dam.
Yahya al-Shami, a correspondent for Almasirah satellite channel, published a photo for  him on Sunday in the area between the Al-Abalq Mountains and the southwestern shores of Marib dam.
بين البلقين .. #لبيك_ياشبل_طه pic.twitter.com/EAUNSd6gsV

— يحيى الشامي (@yahiasham) March 7, 2021
Meanwhile, the Yemeni army forces, backed by popular committees have made a significant progress on the ground and taken control over  control of several areas in Marib Dam, sources said.
According to the sources, they forces penetrated from the Balaq Al-Awsat  towards the southern eastern shores of the Marib Dam after days of taking control of the southwestern banks and achieving military advances from the northern banks of the dam.
In 2015,  the Saudi-led aggression forces took down the Yemeni  national flag from the tops of the Marib Dam and raised  the flags of the coalition countries, however, the Yemeni army forces today forces on Sunday raise the national flag over many areas of Marib Dam.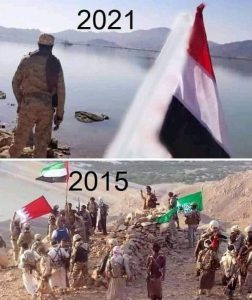 E.M