ABYAN, Aug. 15 (YPA) – Al-Islah militias and the UAE-backed Southern Transitional Council (STC) militants have sent new military reinforcements to Shuqrah district and the city of Zinjibar, the center of Abyan province, as part of the preparations for a new battle between them in the province.
Islah reinforcements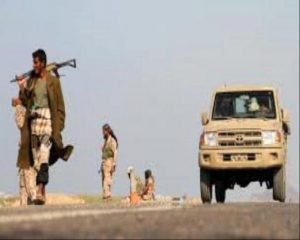 According to press reports from Abyan, al-Islah militants have pushed for significant reinforcements to fight a decisive battle with the "STC" militias, in order to take control of the city of Zinjibar, the center of Abyan province.
According to local sources in Abyan, the reinforcements of al-Islah militias, consisting of military crews with machine guns, fighters, vehicles and military vehicles arrived in the area of "Qarn al-Kalasi" located west of the coastal city of Shuqrah in support of its collectors there.
The sources added that the militias of the Islah party deployed many armed men and vehicles along the road between Shuqrah district and the city of Zanzibar.
The STC reinforcements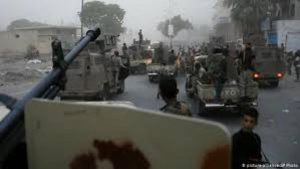 On the other hand, the sources confirmed that the "STC" sent military reinforcements consisting of armored vehicles and at least two tanks and two military pickup vehicles, in addition to and hundreds of gunmen from Aden and Lahj provinces towards the town of Sheikh Salem.
The sources added that the "STC" militia pushed vehicles and bulldozers into the sheikh Salem area, erected earth barriers and dug dozens of trenches in the vicinity of the coastal town.
A failed Saudi play
These preparations by both sides, come a day after the Saudi ambassador to the Hadi government, Mohammed Al Jaber, confirmed the start of the implementation of the Riyadh II Agreement, the removal of the STS's militia brigades from Aden, and the return of the al-Islah militants, after their expulsion in August 2019.
The Saudi ambassador said in a tweet on Friday: The Saudi coordination and liaison team with the participation of coalition forces in Aden has begun to oversee the removal of military forces from Aden out of the province.
However, observers of the situation in the southern provinces, questioned the statements of the Saudi ambassador, considering that the transfer of the al-Asefah brigade of the transitional from the city of Aden, without heavy weapons is part of a Saudi sitcom to strengthen the ranks of the STC in Abyan province, pointing out that the militias of the security belt still exist in the province of Aden.
In a tweet on Saturday, The STC's military  spokesman in Abyan, Mohammed al-Naqeeb accused the "Al-Islah Party" of handing over a number of military positions belonging to its militias in Abyan province to al-Qaeda and ISIS elements.
Al-Naqib said the handover of military positions to al-Qaeda and ISIS is aimed at paving the way for the Saudi commission.
E.M