ADEN, July 31 (YPA) – Director general of the al-Ma'ala directorate, Fahd al-Mashbaq has survived an assassination attempt in the southern port city of Aden, local sources reported on Thursday.
According to the sources, an unknown gunman fired at the director of al-Maala directorate, Fahad al-Mashbaq, from one corner of the Hotel "Al-Ma'ala Plaza".
The al-Mashbaq was with a number of his companions in the hotel, one of the sources said, adding that one of the companions was wounded.
Surveillance cameras at a hotel have documented the assassination attempt that targets the  local official inside the hotel.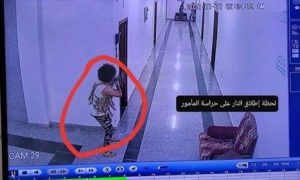 The footage showed an armed young man wearing military trousers pointing a gun at the man and his companions.
According to the source, the attempt came after a dispute between the gunman and the director of al-Ma'ala after the latter demolished an illegal building built by the gunman in a street of the directorate.
E.M