Humanitarian Affairs Council calls for probe into corruption of int'l organizations working in Yemen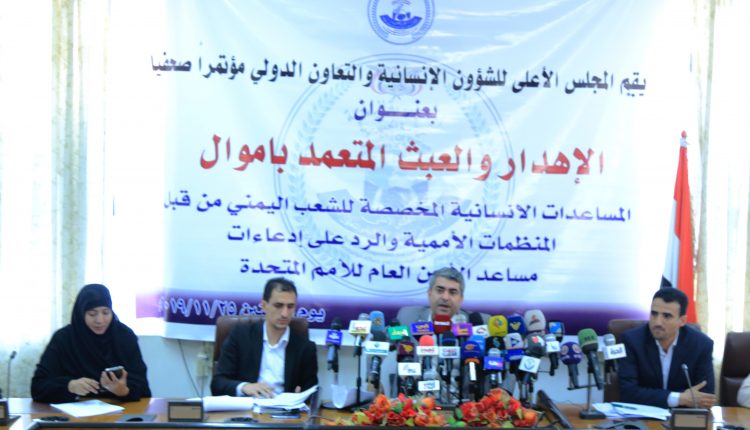 SANAA, Nov. 25 (YPA) – Secretary-General of the Supreme Council for the Management and Coordination of Humanitarian Affairs and International Cooperation Abdulmohsen Tawoos called for the formation of an international committee to investigate the corruption of international organizations working in Yemen.
During a press conference held by the Council in Sanaa, Tawoos called on the international community to probe into the deliberate waste of humanitarian aid funds allocated to the people of Yemen amounting $4.2 billion dollars by international organizations implementing humanitarian projects in Yemen, which did not meet the humanitarian needs plan of the Yemeni people during 2019.
Tawoos noted that the World Food Program (WFP) had committed during the past period to diverting aid to cash transfer, but it started to disavow those commitments.
In the conference, Tawoos affirmed that the Supreme Council for Humanitarian Affairs and International Cooperation was formed by the Supreme Political Council, as a single window to manage the humanitarian affairs and deal with organizations, to address all forms of corruption of international organizations and control the humanitarian path during 2020.
YPA