Observers: Silence of Saudi-led coalition over Islah's military mobilizations confirms a strike against UAE-backed militias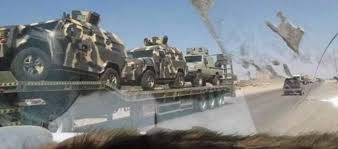 ADEN, Sept. 10 (YPA) – After a Joint statement was issued by Saudi Arabia and the UAE on Sunday regarding the fate of the occupied southern provinces and the factions of Islah party and Southern Transitional Council, the Yemeni branch of Musial Brotherhood " Islah party" called all their factions to mobilize and sent dozens of vehicles and military forces in Marib and Shabwah heading towards "Shaqra" in Abyan province, in preparation for moving towards Aden in response to what was said in Statement.
Political observers believe that the rejection of the Islah factions that control "Hadi government" for the statements of the Saudi-led coalition and attending Jeddah dialogue, is a sign of their readiness to fight an upcoming battle in the south,
This led them to mobilize all their combat capabilities to blow up the situation in Abyan and use the al-Qaeda group deployed in al-Wadhe'a district of Abyan province to carry out a preemptive strike on UAE-backed militias.
Observers predict that Saudi Arabia's silence on the mobilization and movement of the Islah Party is a hidden enabler to retake Aden and the rest of the provinces that were toppled by The STC's militia.
Al-Islah factions have targeted an Emirati vehicle in Shabwah with Emirati recruits, considering it a fight against Emirati terrorism, they said.
On Monday, tanks on trucks were seen passing through Marib road towards Ataq city , while military forces, vehicles and military pickups were still being pushed to Shaqra to prepare for a war in Abyan while the Southern Transitional Council tries to avoid this war and accept coalition statements and calm down and attend the Jeddah dialogue at the behest of Emirati aims to convince Saudi Arabia.
E.M